The 2015 World Human Powered Speed Championships will be held September 14th - 19th at Battle Mountain, Nevada for the 16th consecutive year of racing. SR 305 provides one of the straightest, smoothest and most ideal road surfaces in the world for HPV records.
The 4,619ft (1,408m) altitude road allows riders an acceleration zone of over 4 miles, enabling them to reach their maximum velocity before being timed over a 200 meter distance. The section of the road used for this event was newly refinished in 2009, with a smooth surface specially prepared for human powered vehicle racing by Frehner Construction and the Nevada Department of Transportation, using a Nevada Department of Tourism Grant from the US government.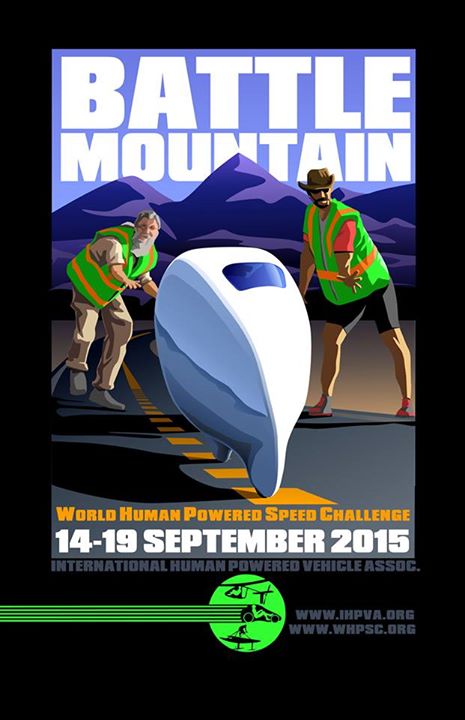 Click here for a PDF copy of the 2015 Poster.
Be sure to follow the action daily and check the event website for links, updates, results and photos.
A list of the planned entrants can be seen here.
Check out Mike Mowett's unofficial but very interesting lists of riders and records to be challenged. The complete information is also available in Excel format.
Contributions to the WHPSC Prize Fund would be greatly appreciated.
Please check out the WHPSC and IHPVA pages on Facebook
Special notes for competitors, teams and volunteers:
1. IHPVA Rule 3.2.3.2 Flying Start has been revised to permit push assists by no more than 3 persons per single rider vehicle with an additional 1 person per additional rider (e.g. Tandem). The complete rules can be found at the IHPVA Rules page.
2. The Start Order Selection Process is detailed here.
3. WHPSC forms and information are now available:
4. Note that launch dollies or carts will no longer be allowed at the WHPSC after 2015.