Join the IHPVA!
The International Human Powered Vehicle Association is a North American-based, volunteer-run, nonprofit educational and scientific organization dedicated to improvement, innovation, and creativity in the use of human power, especially in the design and development of human powered vehicles. Donations to the IHPVA are tax deductible in the USA under section 501(c)(3) of the US tax code. You can read more about the IHPVA and their activities on the website www.ihpva.org
Who Should Join?
All are welcome! Individuals, schools, clubs, businesses. Buy a membership for a friend, school or library!
What Are The Benefits Of Membership?
Receive the IHPVA official newsletter, HPV News, keeping members updated on current/upcoming events and fun and interesting topics regarding Human Power.
Receive the technical journal HUMAN POWER, which covers human power technology in a scientific manner, where you will read in depth reports about technological developments of lasting interest for the human power community.
How Do I Join?
Please send in a completed application. Photocopies are accepted.

What Does It Cost?
Yearly membership dues are as follows: US, Canada and Mexico: US $32; all other Countries: US $37

How Can I Pay?
We are happy to accept: US Dollars, check drawn in US dollars on a US bank account, PayPal, VISA or Mastercard (please include the card number and expiration date), postal money order made out in US dollars, foreign draft drawn on a US bank, with identification numbers. Please do not send non-us currency or checks drawn on any other than a US bank.


Where Do I Send My Application?
Please send applications/correspondence to:
IHPVA
PO Box 357
Cutten, CA 95534-0357 USA
Phone toll free US: 877-333-1029
Web site: ihpva.org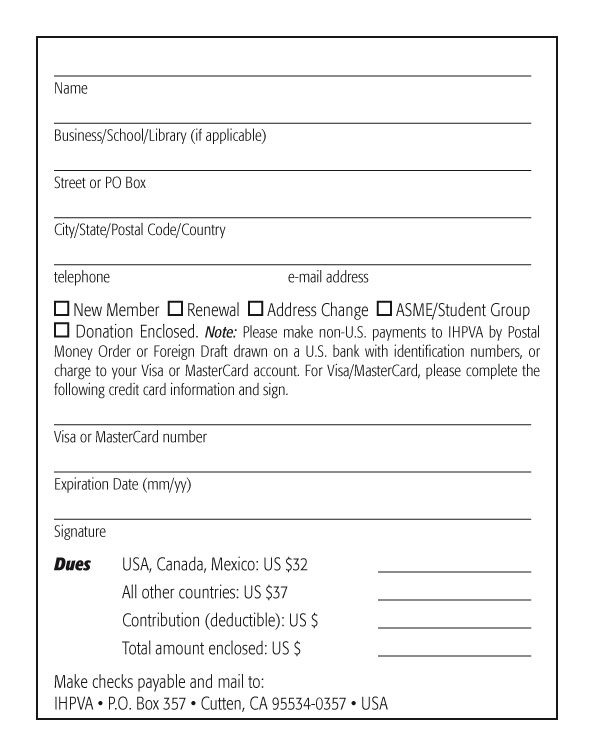 downloadable pdf version - click here