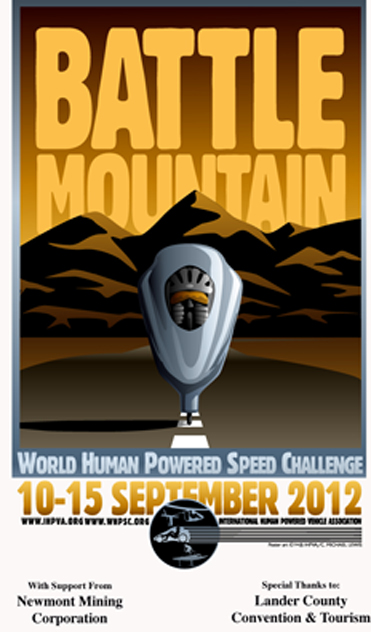 During the week of September 10th through September 15th 2012, cyclists from around the world including Australia, France, Russia, Scotland, USA, Canada, and the Netherlands will gather on SR305 outside of Battle Mountain, Nevada for the 13th consecutive year of racing on what is arguably the straightest, smoothest and most ideal road surface in the world for HPV records.

The 4,619ft (1,408m) altitude road allows riders an acceleration zone of over 4 miles, enabling them to reach their maximum velocity before being timed over a 200 meter distance. The section of the road used for this event was newly refinished in 2009, with a smooth surface specially prepared for human powered cycle racing by Frehner Construction and the Nevada Department of Transportation using a Nevada Department of Tourism Grant from the US government.

Be sure to follow the action daily, check the event website for links, updates, results and photos!

Also visit the USTREAM channel set up for the event, we plan to cover the post run wrap-up meetings twice daily, technology permitting


special thanks to Newmont Mining Corporation for their annual support

Like us on Facebook