Folding recumbent bike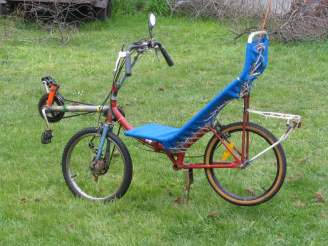 This is a simple folding recumbent using a old 22" bike as the base but installing 20" wheels. The front boom was welded on and the seat post cut and bent back to lay the same angle as the seat but other than that the frame is as it was. As it has a folding mechanism I decided to try front wheel drive as it may be difficult to fold the chain if it was going to the rear wheel.
Surprisingly this FWD system was reasonably easy to make but I learnt a few things that would have been good to know beforehand. EG the closer the chain to the pivot the better the turning circle. At acute angles the wheel hits the chain so I may have to make a steering stop to prevent this.
The front wheel is a Sturmey and Archer 3 speed internal geared hub with 2 sprockets fitted making 18 gears all up. The type of sprockets that fit on this hub are dished so turning 2 different size ones back to back and taking out the spacer allows one to mount these on the hub.
Seat is removable with 3 bolts if needed and seat angle can be adjusted either by mounting it up the ex bike seat post and/or extending the rear seat support tube. I may make this easily adjustable with a clamp yet.
Riding is a little strange probably because of my unfamiliarity with FWD. Handlebars are quite high but need to be allow leg clearance when pedalling.
Bike folds up quite good. See pic without seat and handlebars not compacted.
Specifications
| | |
| --- | --- |
| Seat height | 440mm |
| BB height | 625mm |
| Wheelbase | 960mm |
| Total length | 1.02m |
| Handlebar height | 975mm |
| Max height | 1m |
| Seat to BB | 880mm |
| Weight | 17.5kg |
| Weight distribution incl rider | 50%front - 50%rear |
A few video's riding (3.9meg) the bike and showing the folding mechanism. (1.8meg)
[ Home ] [ Ally] [Stamp FAQ] [ HPV Index ] [ Design overview ] [ Bike 1] [ Bike 2] [ LWB Bike] [ SWB Trike ] [Electrified 20" Tadpole trike] [ Childs Trike ] [ SWB Trike 2 ] [ Electric Trike ] [ RWS Trike ] [Delta Trike] [Childs Hi-Wheeler] [ Bike Trailer ] [Recumbent bike trailer] [Power Trailer] [ Steering Diags ] [ Steering Mounting] [ Kingpin Diags ] [Novel HPV Ideas] [ Australian HPV Resource ] [ Links ] [Power Assist] [ Unusual Vehicles ] [ Electric RC Models ] [ EV Circuit Diags ] [Tas HPV] [QLD PP] [Qld HPV] [Skycycle] [Bleriot] [Building HPV's] [Darryl] [Null Modem] [ Pedalezy ] [ USPD ] [Zeta] [Power Attachment] [Email]
Last updated Saturday, October 30, 2004